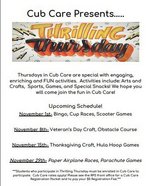 Thrilling Thursdays
After school Cub Care is going to be special!
Related Files: Thrilling_Thursdays_in_Cub_Care.pdf
Thursdays in October are going to be EXTRA special in our after school program, Cub Care! Check out all of the THRILLING events going on and be sure join us!
*Cub Care rates apply and students must be registered. Please check with the office for a Cub Care packet.